44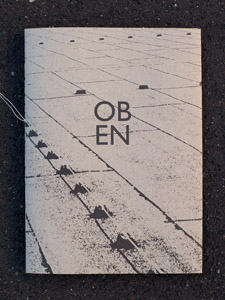 OBEN / ABOVE
Photography & Design: Diane Vincent
Editing: Paul Gaffney and Diane Vincent
Bookbinding: Nico Baumgarten and Diane Vincent
Edition size: 250, including an upcoming extra edition of 21
Content: twenty-one photographs, a poem and a drawing
Type of paper: Lessebo Design Rough 150g/m² and 90g/m²
Printing: digital offset
Number of pages: 48
Cover: Muskat 160g/m², printed offset
Dimensions: 20,5cm x 28cm / 8,1 x 11 inch
Hand-bound with a special saddle stitch and finished with a hand-drawn map.
ORDER YOUR COPY BELOW (25 EUR including international shipping)
Photobooks of the Year 2014:
OBEN was selected by LensCulture for their annual photobooks of the year 2014 list.
Book Reviews
Here are a few sentences from some of the online features which OBEN obtained. More can be read by clicking the link which follows the quotation.
"Diane Vincent's beautiful self-published book OBEN takes you on a very personal, meditative journey and quietly lifts you up to a parallel universe most of us are usually unaware of – the rooftops of Berlin. OBEN lets you breath in the fresh air… and out again, slowly."
Julia Schiller, Actual Colors May Vary
"It feels fresh, as fresh as the wind that blows over the rooftops of a city." Colin Pantall, Colin Pantall's Blog
"For some reason, these contrasty, graphic black-and-white photographs of rooftops in Berlin spoke to me, took me to those isolated places with wide open views, and made me feel … happy." Jim Casper, LensCulture
"On top things are different. On mountains, for example, or on trees. In cities you are up when you climb on roofs. Although the city is very close, there is nothing going on. No cars, no crowds, no people." Hannes Wanderer, 25 books
"One notices an urge to run and jump, to skip from block to block, imagining a soft summer breeze gently caressing while an occasional bird glides overhead. It is about feeling the light on ones face and opening up to the great beyond." Barry W. Hughes, SMBHMAG
"Und oben passiert eine Menge, vor allem aber weitet sich der Blick in eine für viele sicher komplett fremde Welt. Für mich strahlen die Bilder eine starke Ruhe, ich würde schon fast sagen eine Einsamkeit oder Melancholie aus, die schroff mit dem Bild kollidiert, das ich von Berlin habe: eine lebhafte, manchmal unerträglich lebendige Stadt, deren Geschwindigkeit sich oft nur schwer aushalten lässt. Diesen Kontrast finde ich spannend und herausfordernd." Karsten Michael Drohsel, Urbanophil

OBEN Extra Edition
The 'Extra Edition' includes a slightly different version of the book OBEN, which is bound with a black thread (rather then the usual white) and is limited to 21 copies. You will also receive a sketch book in both the same format and binding, and a large 55 x 77 cm poster (with a choice from one of three images – 7 of each are available), all of which comes in a handmade box.
The 55 x 77 cm poster has a grey back, which indicates that it can be glued directly on a surface. Please note that it comes folded inside the cardboard box (together with the photobook and sketch book). To get the poster without folds add shipping costs below.
ORDER YOUR COPY BELOW: